Brush
Published:2014/6/10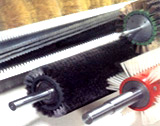 Brush

1. Using National Standard 1010 Nylon Yarn. Color: Black, White, Orange and etc. Thickness: 0.08mm-0.80mm. Can be customerized.
2. Using bristle, horsetail and wool to make the brushes. Widely used in various machineries.
3. Diameter of brushes can range from 25mm-500mm. Length: under 5000mm. Can make special brushes by requirements.
4. Brush body can be made of nylon, wood, rubber, glass steel and etc, and applied in various industries.